It does not matter whether you own a Maytag from the late 1990s or the latest LG front-loading washer. At some point, you will need washing machine repair will need to be repaired. However, just because you hear a strange sound during the occasional wash cycle it does not always mean you need to spring for a repair. Here are some symptoms that do indicate you should get the machine looked at.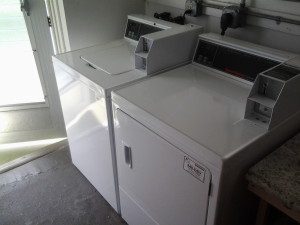 Washing Machine Stops Spinning or Agitating
If the spin mechanism has stopped working, you can see it during a wash cycle, as maybe something has become struck in it. Be careful that the machine is turned off before opening the lid and checking for any obstructions. If none is present, you will want to call a service company to diagnose the problem. The lid switch may need replacing or the motor may need fixing.
Washing Machine Makes an Unusually Loud Noise
Every washer makes some degree of noise. It should only concern you when it is constant and unusually loud. This could mean that the tub bearing needs to be replaced. This is a part that the service technician will need to get from the manufacturer and it can be an involved repair. Check with your warranty materials to see if this type of service is covered. The loud noise can also indicate a problem with the drum or the seal on the tub, so try not to let this repair go for too long, with getting it fixed.
Washing Machine Shakes During Operation
Sometimes washers do a bit of vibrating at certain points in the wash cycle. When the entire machine bounces, shakes and vibrates, it is an indication that something is wrong.
Have you moved your washer recently?
If so, one of the shock absorbers could have come loose. This could be the cause of the problem. It could be something having to do with the machine's suspension, too. Get it looked at right away by a professional repairman.
Machine Leaks
If your washing machine ever starts leaking, you will want to call for a technician right away. As you know, electricity and water do not mix. It could mean the drain pipe is broken. This cannot be fixed, but your technician can help find a replacement and install it for you.
Washers sometimes act up. This can happen no matter how old or new the machine is. Always contact a professional appliance repair company to help you with your laundry machine problems.
Other problems found with these types of machines include:
Device not starting
Timer not advancing
Overfilling with water
Not filling up with water
Burning smell coming from the unit
The unit is filling and draining at the same time
Won't fill with either cold or hot water
The door or lid is not opening
Gwinnett County Cities we service include:
Centerville, Duluth, Rest Haven, Peachtree Corners, Snellville, Suwanee, Sugar Hill, Dacula, Grayson, Buford, Braselton, Berkeley Lake, Lawrenceville, Lilburn, Mountain Park, Norcross appliance repair