Refrigerator Repair Peachtree Corners GA
Household appliances have become part and parcel of modern living and so has the need for an expert fridge repair service. Finding a house that does not have a fridge today is almost impossible. And a fridge in need of repairs can be a really messy problem for any homeowner to have. From irregular temperatures, freezer not freezing, to broken refrigerator ice maker repairs, we are here to help your fridge keep it's cool. Our refrigerator technicians are familiar with almost all brands of fridges in Peachtree Corners, Georgia from: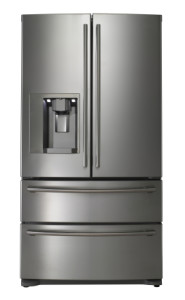 Samsung
Kenmore
Amana
KitchenAid
Whirlpool
Hotpoint
Frigidaire and more.
Most appliances experience some sort of interruption or malfunction at some point. Some small problems like a blown bulb can be fixed easily, even by the homeowner, but sometimes such minor issues provide symptoms of an underlying issue that may eventually cause your refrigeration unit to break down. Our refrigerator service technicians can examine your household appliance and give you a rough idea of its general condition, the refrigerator repair cost and perhaps its remaining lifespan. Based on this data, you can easily decide if it is worth buying a new one or have the current one repaired. In case you decide to buy a new appliance, our fridge service experts can also recommend the best one for your needs!
Here are some common refrigeration repair problems:
Inconsistent temperatures
Big energy draws
Noisy compressors
The ice maker not dispensing ice
Fridge not working at all
The door pops open when you close the fridge
Refrigerator compressor repair
Benefits of hiring one of our refrigeration service technicians
We Strive for Excellence
Our company realizes that customers need quality and reliable fridge and freezer repairs. That is why our freezer service technicians take pride in their ability to accomplish this for you. Modern kitchen appliances are a bit more sophisticated than those that your parents or even you were raised with. They are high tech and incorporate a number of electronic control systems that require specialized diagnostic tools and more training to repair well. This is why each and every refrigerator repairman attends factory training, which are scheduled regularly to keep up with the ever advancing models of both today and tomorrow.
An Appliance Repair Refrigerator Company You Can Trust
All our local refrigerator repairs and fridge installation services come with a warranty on all the parts that are installed. Of course, there are exclusions on some parts, but we always stand behind our repairs and parts a hundred percent!
Our technicians use only authorized parts. Only original parts and factory certified parts are used on all refrigeration units, freezers and ice makers that we service and repair such as:
Samsung
Hotpoint
Jenn-air
Maytag Refrigerator Repair
Whirlpool
KitchenAid
Wolf
Roper
General Electric
Subzero
Miele
LG
Kenmore
Estate and all other brands.
Why choose us?
All refrigerator appliance repair technicians are specially trained experts with the ability and knowledge to handle any problems with fridges that you are experiencing. While most service companies seek to make profits by recommending unnecessary services and cutting corners, we believe that by delivering outstanding honesty, quality and affordable refrigerator repair service we will serve our community in a greater and rewarding way.
With several years of experience, our factory repairmen will leave you very confident that your residential appliance has been well diagnosed, restored or repaired to its original condition. Our company is also based on the notion that our client's needs and requirements are of the utmost priority. All our staff is committed to satisfying those needs. Because of that a greater percentage of our business is from referrals and repeat customers. Our factory trained and skilled technicians will not only impress you with their timely 24 hour repair, but prompt arrival too. Call us today and experience quality at its best!