How can you tell when your oven needs a repair?
What do you do when the stove or range fails to work correctly?
Do you have to resort to a service call, or can you put the work off?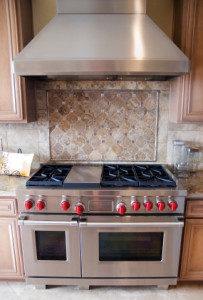 There are many questions convention oven owners have regardless of whether they own a gas or electric unit. Some people jump to the conclusion that the unit is completely broken and that they need to buy a new wall oven. Actually, most of the time the stove is just in need of a relatively inexpensive stove repairs. Here is some help for diagnosing problems and symptoms.
The Oven Stops Heating
For a gas range this means a few things. Either the pilot has gone out and you can relight it yourself to get the oven to work correctly or the igniter is broken. The igniter is also a part for electric stoves. If the igniter stops working, you will need to have it replaced. In this case, it is important to contact your local oven repair service technician for more help.
Device Won't Start
Another cause could be that the bake element inside the oven has become punctured or otherwise unable to provide the heat needed. Again, for this situation, if you can test it yourself by a visual inspection or by using a tool called a multimeter, you can find out if it is, in fact, damaged. Call your appliance repair company to have it replaced.
Range Burners Keep Sparking
This is an alarming symptom to experience. However, most of the time all this means is that you need to get a repairman to come in and determine if the spark ignition switch is defective. If it is not the switch it could be the spark module. A local technician can replace whichever part is causing the problem.
Food Doesn't Cook Properly
If you have set the correct temperature on the oven and allowed proper time for foods to cook and it still seems to be underdone, it could be time to have a repair person come inspect the oven. It could be that the igniter, broil element or the bake element needs to be replaced.
The important thing to keep in mind is that anytime your cook top stove or range stops' working properly, it does not necessarily mean it is time to invest in a new unit. There are many affordable repairs that can be done to have your smooth top stove working perfectly again.
Other issues you may experience are:
No heat coming from the element
Timer stops advancing
When broiling there is no heat
Can't program the unit
The oven is too hot
The door is not opening after completing the self cleaning cycle.
We service these Gwinnett County Communities:
Centerville, Duluth, Dacula, Grayson, Peachtree Corners, Lawrenceville, Lilburn, Mountain Park, Norcross, Rest Haven, Snellville, Suwanee, Sugar Hill, Buford, Braselton, Berkeley Lake